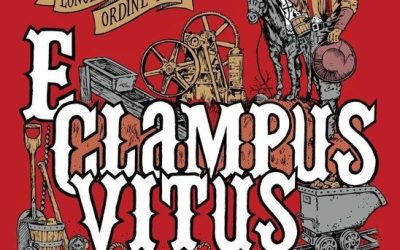 Via Scott Valley News on Facebook On Nov. 19 the members of the E Clampus Vitus Siskiyou Chapter "Humbug 73" and the Southern Oregon Chapter "Umpqua Joe 1859," in association with the Denny Bar Company will be holding a ceremony to place a historical marker on the...
read more
Friday, December 3, 2021 5-8 pm
Gail Jenner will be having a book signing at Zephyr Coffee and Book Shop in Yreka, CA.
This is a 'city-wide' shopping event where Gail will be appearing with another author. Gail will be selling and signing not only her newest book from TwoDot, "WHAT LIES BENEATH: California Pioneer Cemeteries and Graveyards" as well as many other books.
Friday, December 10, 2021 at 12 pm 
Presentation and power-point at the Siskiyou County Museum.
Gail Jenner will talk about her experiences researching and writing her latest book. Plus she will highlight some local gravesites not covered in "WHAT LIES BENEATH: California Pioneer Cemeteries and Graveyards"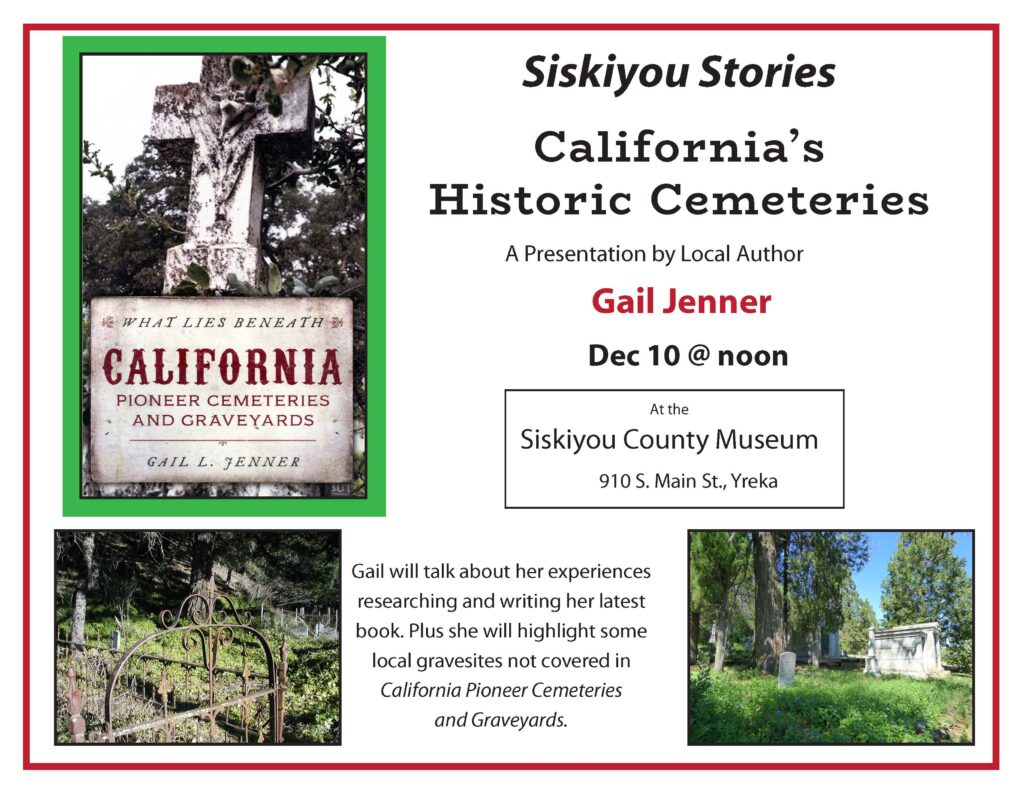 ---
Past Events
Wed. Dec. 12 – Etna Library, Etna, CA — 7 pm: Will share about my newest release:  ONE ROOM: SCHOOLS AND SCHOOLTEACHERS IN THE PIONEER WEST
Friday Dec. 14 — Siskiyou County Museum — 10 am til 1:00: Local authors will be signing books for sale for Christmas sales
November – March 2017 – Speaker/Visiting Teacher, Etna High School English Classes, with Asa Robinson – Black Bart/writing from history
March 11, 2017 – Speaker/presenter, Scott Valley Berean Church Women's Workshop, Etna, California  – Journaling/Writing for oneself
October 1, 2016 – Speaker, Soroptimist Regional Meeting, Yreka, California  –  "Women in Siskiyou County and Northern California History"
October/November 2016 – Speaker/Visiting Teacher, Yreka High School U.S. History Classes, with Carla Truttman –  History behind the State of Jefferson
August 2016 – Workshop on Journaling, Etna, California – How to Journal/Writing memoir
July 2016 – Speaker, Native Daughters' of the Golden West Dedication of Hallie Daggett Cabin, Etna City Park, Etna, California – The Life/history of Hallie Daggett
June   2016 – Panelist/presenter – Western Writers of America National Conference, Sacramento, California  –  "The Lady was a Rancher: life of ranching women"
March 5, 2016 – Yreka Author Event at Serendipity, Yreka, California — Book signing/reading from ANKLE HIGH AND KNEE DEEP
June  2015 – Art Walk and Book Signing, Yreka, California – Share stories/Reading from ANKLE HIGH AND KNEE DEEP: Women Reflect on Western Rural Life
May 12, 2015 – Book signing/reading – Ashland, Oregon, Branch Library – Share stories/Reading from ANKLE HIGH AND KNEE DEEP: Women Reflect on Western Rural Life
Dec. 12, 2015 – Power point presentation with Betty Carrier – Siskiyou County Museum, Yreka, California – "Cattlemen and Cattlewomen of Siskiyou County"
Dec.  2015 – Book signing/reading – Lyons' Bookstore, Chico, California – Share stories/Reading from ANKLE HIGH AND KNEE DEEP: Women Reflect on Western Rural Life
August 26, 2014 – Book signing/reading, Fort Jones Library, Fort Jones, California — Share stories/Reading from ANKLE HIGH AND KNEE DEEP: Women Reflect on Western Rural Life
Dec. 13, 2013 – Costco Book Signing, Roseburg, Oregon —  Arcadia book sales of State of Jefferson Then & Now and other State of Jefferson books