Testimonials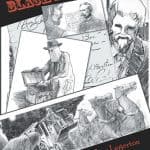 Fascinating story
Charles Bowles was a real-life man who lived in the rough times of the mid-1800s. He seemed an ordinary enough person as a son and then a husband and father. But Charles had a restless streak that changed his life completely.
Because Charles became a stagecoach robber, a most successful robber, but definitely not an ordinary one. Charles had a unique penchant for leaving bits of poetry at the scenes of his crimes, a penchant that eventually earned him the name and title of Black Bart, The Poet Bandit.
This is a fascinating fictionalized account of that life change.