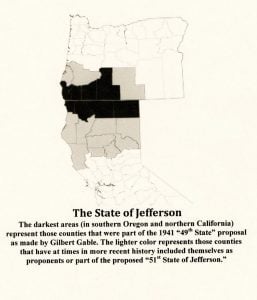 Earlier this spring I had the opportunity to participate in some interviews with the production company, Half Yard Productions, in their survey of The State of Jefferson, for the History Channel's series "How the States Got Their Shapes!"
It was a rainy day and we spent more time waiting for things to happen than seeing things happen. But it was an adventure and certainly time well spent. The episode featuring The State of Jefferson is scheduled to run this month (July)…..have heard that some people have seen clips of the upcoming show. That means it must be coming up soon.
As to the State of Jefferson, however, it's interesting to note the growing interest in this region.
There have been more and more people logging on to check it out, asking questions, researching its history. And there is a growing group of people who, locally, are seeking to move the question of the State of Jefferson to more than a question — they are seeking to get the concept on the ballot, or at least into the public's eye!! We'll have to wait and see what happens.
In another interview, conducted by Serena Travis at Good Morning Scott Valley, I was again asked about the notion of the State of Jefferson. It seems to be a topic of interest to more and more locals as well as out-of-towners. For more check out www.goodmorningscottvalley.com.